PRODUCTS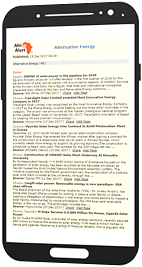 Utilising a range of customised search objects and filtering algorithms, relevant news from multiple media sources is curated by Africa Alert's UK-based analysts and delivered directly via email, ensuring that you can see the latest news at your desk or on the move via your mobile device.
Alerts can be delivered weekly, bi-weekly or monthly.
A headline and snippet are provided for each article, ideal for keeping you up to date with all the latest developments. Links are also provided to the original item.
Translation functionality is available for non-English language content, including French and Portuguese.
Articles can be shared with colleagues via the Africa Alert Share facility.
Products Available
Please to find out more, or to receive a trial.